With the NDIS rollout around the corner, we know it can be overwhelming navigating the new system. At CPL, we have plenty of experience with preparing people to enter the NDIS. Our pre-planning service will support you to feel confident and prepared for your first meeting with the NDIA.
We spoke to Michelle Langlands, one of our NDIS Facilitators, and Gordon Pool, the father of a new CPL client Natasha Pool, to find out more about their pre-planning session. 
About Michelle and Gordon 
Michelle has been in the industry for nine years, and her NDIS Facilitator role at CPL keeps her on her toes! She explained what to expect in CPL's pre-planning meetings, and why we have them.
"CPL have a pre-planning workbook that we've created to make life easier. We sit down and go through the workbook together to help you to prepare for your meeting. 
"It's really informal, we just want to make sure you understand everything and feel totally prepared and informed before you meet with the NDIA."
Gordon said, "Michelle was able to bring a lot of new ideas and more value to our plan. There were some things we hadn't thought of that would really help support Natasha."
"I'm very happy with the input Michelle had. She was more than helpful. She has a lot of knowledge and good life experiences in the disability industry. She can relate to people like myself who are ready to enter the NDIS in July," Gordon said.
Up until now, Gordon and his wife have been providing all the support for their daughter Natasha on their own. Michelle was glad to be able to give them an idea of what they can reasonably ask for. She said it's not uncommon to see families struggling with minimal support, because they have no idea that help is out there.
Michelle said, "The best part of my job is helping people to not feel so panicked about the situation. Just making them realise that they can get support and it's going to be okay."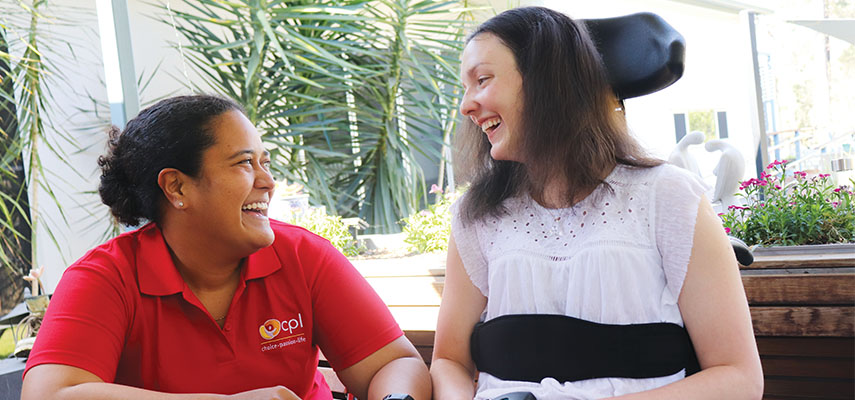 Michelle's advice
For families entering the NDIS, Michelle has a key piece of advice.
"Don't go into the NDIA meeting without preparing for it. We can help you to find out all the details of your current supports, as well as identifying additional supports that you need. Make sure that the supports you are wanting can be linked to your goals. Be realistic about what you are asking for. This is very important!"
Gordon's advice
Gordon's advice to families new to the NDIS was simple: talk to CPL.
"Have a talk to one of the NDIS Facilitators at CPL. They have experience working with people who have already gone through the NDIS rollout, like people in Ipswich and Rockhampton.
"We really hope the NDIS is successful for us, and I'm sure a lot of other people do too. We are in uncharted waters at the moment, we really don't know what to expect.
"But we're not alone, that's the main thing. There's a lot of us that will be entering the NDIS in July, so CPL will be a very valuable service for many people."
CPL is there to support people with disability and their families in any way possible. If you are facing the NDIS rollout, we encourage you to download CPL's NDIS Pre-Planning Workbook as it steps you through everything you need to know.
CPL can support you to plan and reach your goals, whatever they may be. For more information call us on 1800 275 753 or fill our an online enquiry form.